It seems you can find information and content on almost any topic, and pretty much every company has some webpages dedicated to sharing their knowledge or increasing traffic. But what's the difference between content and thought leadership?
There are four elements to consider: thought leadership is a piece of content that presents a fresh perspective (innovation) supported by evidence (credibility), which is accessible (visibility) and aims to inform its reader (educating).
Now let's examine these elements, how they contribute to elevate a piece of content and how they can be achieved.
1. What is meant by thought leadership? Innovation
Thought leadership doesn't merely scrape the surface or share known information. Instead, it is content which dives deeper and further, building on knowledge and expertise to produce innovative ideas. It addresses the big questions on the minds of one's target audience and the biggest trends and influences in one's market. Thought leadership is the product of individuals or companies who are committed to a deeper understanding of their market and therefore create insightful analysis and content.
By enlisting on both experience and passion, thought leaders look for unique perspectives with which to view these topics. Although uniqueness is important in thought leadership, what is even higher on the priority list is having the best answer, because ultimately thought leadership is a method of informing.
2. What is meant by thought leadership? Education
Thought leadership is a product of those wanting to educate and engage with their customers in a commensal fashion. You achieve this by consistently sharing high-quality content openly.The end goal of thought leadership is often not sales or leads. Instead, it is a product in itself, with engagement being the equivalent of a sale. The desired outcome of producing thought leadership is therefore high engagement from one's audience, with any other beneficial outcomes being a bonus rather than a given. In this way, an organisation views thought leadership as the door to welcome consumers, competitors, or the general community.
It is a means of educating and sharing knowledge. This commensal relationship, in which the audience benefits at no cost to themselves, builds trust between them and the thought leader. You should avoid using it purely for self-promotion. This approach will not only lose the audience's interest but also erode the trust you've built.
3. What is meant by thought leadership? Visibility
One cannot lead if they cannot be seen! Content therefore requires visibility to become thought leadership. Thought leadership in turn then increases visibility of the thought leader, accelerating their influence, and taking them closer to their goals.
4. What is meant by thought leadership? Credibility
Thought leadership is content which influences and creates change. Therefore, it is important that it's based on credible information. Although experts can of course have expert opinions, to be effective it must be backed up with data and underpinned by facts. This is where thought leadership research comes into play.
Why engage in thought leadership?
There are several benefits in being a thought leader. Generally, thought leaders are trailblazers, at the top of their game, both helping and influencing those around them. Now who wouldn't want that?
Builds trust between a company and its audience
Customers are going to trust companies who can explain how to solve their problems clearly. And they are going to trust companies who do so consistently without asking for anything in return. By producing thought leadership pieces that show they not only know their market, their audience, and the challenges which both face, but also an advanced thinking on these topics, thought leaders can build trust in their audiences.
Builds brand strength, visibility, reputation
Not only does being knowledgeable increase trust, but it looks pretty good too. If a company is producing thought leadership, showing it is ahead of the game and aware of what is going on around them, it sheds a positive light on the brand. Becoming part of the conversation and becoming more visible means the audience will get to know them – things feel more relatable, more accessible and more social – which is good news for a brand's reputation and affinity.
Provides opportunities
Becoming a thought leader opens a world of opportunities for a company in terms of business, such as:
Sales/partnerships
Generating demand
Exposure/access to people who can propel or develop new ideas
Build relationships with other leaders in their fields/in your field
Reach new audiences and grow current ones
Provides power, status, and authority
Of course, being a leader in your field instinctively puts one in a position of authority. When others seek you out for knowledge, expertise, and insight, they also see you as a persuasive figure and follow you in decision-making situations. People view producing thought leadership as the pinnacle of authority in a B2B setting.
What forms can thought leadership take?
Thought leadership can take many forms, it can be written or spoken, online or offline, long or short, independent or collaborative – the list goes on. But the main premises remain; it is informative, it is credible, and it offers insight or innovation from an expert.
Generally, a thought leader should use various types of thought leadership and strategically choose their platform.
Post Type
Description
Blogposts
By posting thought leadership content to one's own blog regularly, a thought leader can build a strong repertoire and get their message out to their followers
Guest posts
Writing and publishing an article on someone else's website or blog. This is a great way to connect with new readers and get your message to an audience outside of your usual followers
Articles in industry journals
A great destination for when you want to reach other experts within your industry
Contributed content
This is content written by a non-journalist and published somewhere other than one's own platform, such as a news website or paper. It generally does not require journalistic neutrality and can have a clear opinion. It can be one-off, or a regular occurrence and it allows you to reach a wide audience to get across your point of view
Whitepapers
A persuasive and in-depth report on a specific topic, used to educate an audience or promote a strategy. With this method, the writer can present their philosophy on the issue at hand
Press mentions
Exactly what it says on the tin: a mention of you or your company in the press, in the form of quotes, case studies, being used as a positive example or even a feature of an entire article
Social media posts (Twitter, LinkedIn, Facebook, Instagram
This is a platform not only where one can share their existing thought leadership content, it is also somewhere where one can get involved in conversations circulating around the topics they are experts on and where they can connect with others in their industry
Webinars
Giving presentations, lectures, workshops or seminars over the web on a topic of one's expertise will show that they are someone to look up to in the industry. This is an example of how someone can engage in the educational aspect of thought leadership
Speaking engagements
Whether this is through public media such as TV, and radio or podcasts, giving talks to others in your industry at an industry meeting, or delivering speeches in the community, this form of thought leadership gets one's name and face known in the industry
Awards
Winning awards that matter in a specific industry is a strong sign of being a thought leader in that industry
Who is a thought leader?
What do thought leaders do?
Inspire people/future generation
Have innovative ideas
Turn ideas into reality
Lead the thinking of their field of expertise
Create revolutionary advances in their industry/influence the development of their discipline
Create foundations for others to build on
What is thought leadership research?
Conducting one's own research can give a huge advantage within thought leadership. It can give new insights that can be applied to existing challenges, and it creates new material to include in content and share with others.
Why do research for thought leadership?
To be an expert in your area
Content is only thought leadership if you can 'establish authority' by showing expertise on the topic. Expertise comes from in-depth knowledge. And while in-depth knowledge comes from experience, it can also come from research and having insights that others may not have.
To guide topics and angles to take
You want to communicate about topics important to your audience and you want to take a unique perspective. But how do you know what is important to your audience? How do you know what is fresh and what has been done before?
By doing research, you can answer the questions such as:
What challenges are customers facing?
What do customers want answers to?
What hasn't been looked at before?
What are customers interested in?
How are customer opinions changing?
Who are your current/potential customers?
To flesh out content with cold hard facts
Being an expert in your industry looks good. But an expert's opinion backed up by cold hard facts looks even better.If a piece of thought leadership incorporates statistics and data in support of its aim, it can only benefit:
Improves credibility

It looks more reliable and trustworthy, especially if done with a third party.
Increases chances of gaining media coverage

Including facts and figures can often make content more relatable and therefore more engaging.
Longevity

Facts and figures can be cited over and over. This means a piece of thought leadership content can get more mileage over time and will be less likely to become outdated.
What is thought leadership market research?
The relationship between thought leadership and market research can be seen as a two-way system: Thought leaders can add to better market research, while market research can raise the pedestal of thought leaders.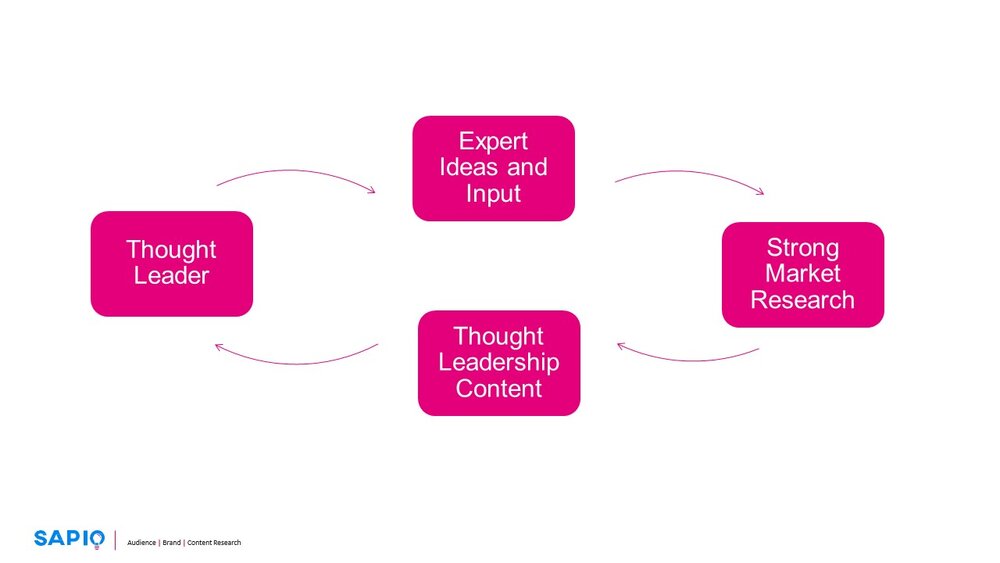 Collaboration with thought leaders
When conducting market research, it can be useful to have input of thought leaders to the research and findings. In collaboration with market researchers, experts in their industry can guide the angles to take, the type of research to conduct, and the questions to ask.They can also add valuable inputs to the findings of that research and the reports made on that industry based on these findings.
Collaboration with market researchers
The relationship is symbiotic – thought leaders benefit from market research as this will help guide their future approaches based on knowledge gained from the findings.
Market research allows thought leaders to find who customers are, what they like and the challenges they face. These findings can then:
Guide future thought leadership pieces in terms of the strategies to take, topics to discuss and the angles with which to approach them
Create data points that support what you do or that highlight the problems which you are going to solve
Turn them into thought leadership media campaigns and provide newsworthy stories. Instead of waiting for news to happen, it creates news stories of your own, empowering you/your company as a thought leader in that area and putting you at the center of that conversation
How can you conduct market research for thought leadership?
Uncover facts, headlines and trends
Measure opinions, attitudes and behaviours
Reveal insights for editorial angles
Gather anecdotal stories and information
Produce quotes
Bring numbers to life
Gain more in-depth insights
Provide real-world context to support auxiliary research
Conduct early explorations of topics to shape the overall program or approach
Engage your audience by letting them know how they measure against their peers
Create insights that capture headlines and promote media coverage
Thought leadership strategy
In order to become a thought leader and create thought leadership content, one should always have a strategy to stay focused and effective
How to make a thought leadership strategy
1. Make goals – what story do you want to tell?
Start at the destination
Decide what headlines or angles you would like to make and let that lead the way backwards as to what questions you need to ask and who you need to ask them to. From here, define the goals you want to reach from your thought leadership strategy
2. Do your research
How?
Using a third party
By conducting market research with a third party, you can ask the questions you don't know the answers to, to find data you didn't know existed. Collecting data in this way ensures that the findings are credible and validated
Collect existing thought leadership
Look at what you have already done to ensure consistency and to see what needs updating to fit in with your new strategy
Why?
Identify topics
Know your audience
Research will help you to define the challenges your customers face.You will better understand your audience, shaping the content you create and determining how you share it
3. Bring together goals and research to:
Decide whom you are targeting with your thought leadership.
Even though everyone should access thought leadership, you should write each piece for a specific audience. Therefore, you need to decide who you are trying to reach. If you want to reach niche outlets related to your specific industry, B2B may be the way to go. Want to connect with the general population and gain widespread media attention? Then it might be best to go with B2C research.
Develop a content/visibility strategy
Decide what areas you will communicate about and what unique angles you will take on those topics
Decide where to share your thought leadership – where does your audience look to for inspiration and information?
Ensure harmony in your strategy
Ensure your thought leadership strategy aligns with your business strategy and that it is something that your audience would find interesting
Ensure that you can bring together all your thought leadership pieces in a way that is harmonious. Lots of content that is not harmonious will not be influential
4. Tell the story
Creating the content:
Choose one or two core points related to your goals/strategy and center your story around these points . On top of this your content should be:
Informative and insightful
Incorporate opinions and recommendations as well as facts
Providing a unique point of view
Make points which add something to the conversation, or something the media might find interesting
Sharing the content:
Make it last
Although you might want to create one center almighty piece of content, a hero piece with the information gathered from all your hard work, that doesn't mean your thought leadership on this area stops there. You can buffer this centerpiece out with auxiliary pieces, such as small blogs, infographics, social posts, and byline articles, over time to prolong your thought leadership presence and maintain momentum. Recycle content in creative ways, but always ensure there's a clear purpose for every piece within your strategy
Be present
Keep the stream of thought leadership content consistently over time, as consistency will create a presence that cannot go unnoticed.
Be diverse
Make sure mix it up regarding the content itself so your thought leadership addresses various issues your audience faces, and keep it varied with the formats you use to reach a wider audience
Make it visible
Publish content through channels which align with the target audience, then reinforce the primary content through social media
Conclusions
"Without data you're just another person with an opinion" – W. Edwards Deming. Make yours a good opinion with evidence.
Speak to Sapio's about its polling services, among hard or easy to reach audiences. You can find our top tips for designing a questionnaire to generate headlines and create an impact here.
#KnowledgeisPoweR